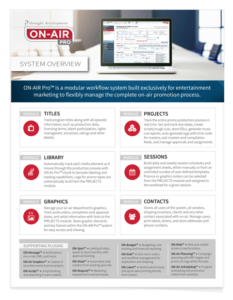 ON-AIR Pro™  is the leading creative workflow management system developed exclusively for — and by — entertainment marketing, designed to manage on-air processes in media promotions. With it's modular and innovative interface, along with a robust suite of tools, ON-AIR Pro™ can accommodate any network, large or small. It is broken down into six linked modules: TITLES, PROJECTS, GRAPHICS, SESSIONS, LIBRARY, and CONTACTS. Each module is innovatively organized to parallel a standard on-air process, whether it be program scheduling or promo production. Another integral feature of the ON-AIR Pro™ system is its ability to create, store, search for, and locate many of the critical forms and documents necessary for production. This eliminates the standard problems associated with backing up work, sharing scripts, creating and interpreting file naming conventions, and distributing updated versions of work orders and schedules.
ON-AIR Pro™ enables its users to track and coordinate the entire creative services process, giving confidence to program schedulers, media planners, creative directors, producers, editors, post-schedulers, librarians, and managers that they can meet their deadlines.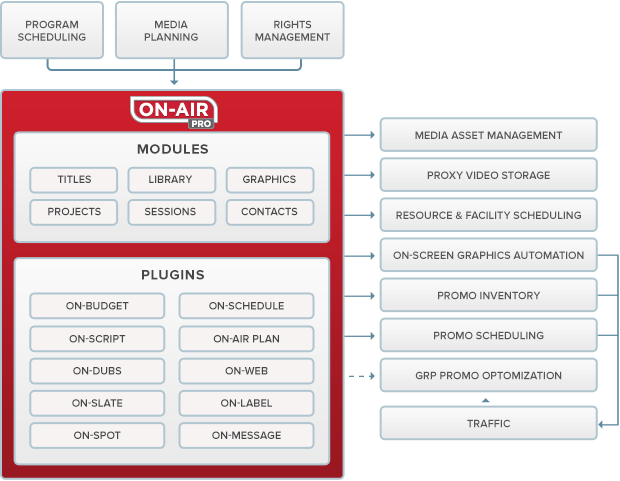 ON-AIR Pro™ integrates by leveraging the existing investments in the many other systems you may already have in place.
ON-AIR Pro™ helps you streamline your production process by managing work that sometimes takes many departments and individuals to perform. Take, for instance, music cue data reporting. Thought Development works closely with music companies for music cue data reporting, and the data from their libraries is actually included in ON-AIR Pro™. By automating the process of receiving as-run files from your operations systems, ON-AIR Pro™ accurately generates reports that fit the music cue companies' formats.