ORDERING, PRODUCING and DISTRIBUTING PROMOS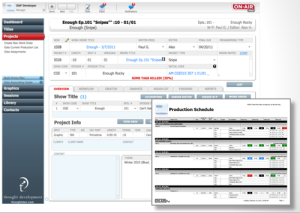 The PROJECTS module is the cornerstone of the ON-AIR Pro™ system. This module tracks the entire promo production process, e.g. setting phase due dates, creating scripts/rough cuts, storing EDLs, music cue reporting, auto-generating logs with time-code for masters, sub-masters, and compilation feeds, as well as managing approvals and assignments lists. In the PROJECTS module, users can view in real-time the progress of one spot or an entire campaign.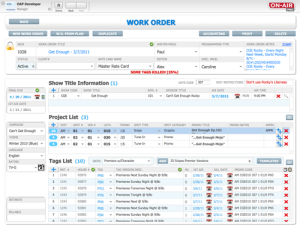 The PROJECTS module features:
Notation of licensing rules in notes, for a show/season, for reference while scheduling
Management of title inventory on a season, series, and episode level
Each show/series record aggregates all associated episodes on a per season basis or for all seasons at once, providing instant access to all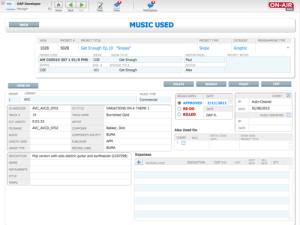 past and present production information
Searching and sorting with ease
The ability to generate lists of shows, episodes, and production information to name a few
The ability to print weekly executive book for each episode, with storyline, cast information and other details.
Affiliate distribution lists and reports that reduce time dedicated to tedious report generation and station communication