MEDIA LIBRARY for SOURCE ELEMENTS LOGGING and PROMO MASTERS CREATION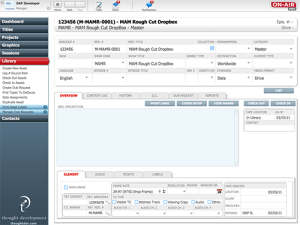 The LIBRARY includes a bar code labeling and reading system that automatically tracks each media element as it moves through the production process. This absolute tracking minimizes the hassle of locating production materials by allowing you to search for the data within ON-AIR Pro™. Source material logging can be done by the writer-producer directly into the LIBRARY. Logs for promo tapes are automatically built from the PROJECTS module, eliminating the need to manually calculate time code entries or re-enter promo information ever again! Integrates with Final Cut Server®.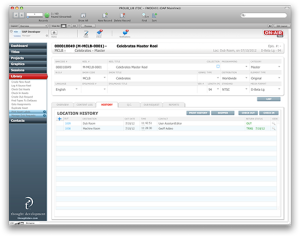 The LIBRARY module features:
Tape information entered into the library database is immediately available to users on the network
Searching and sorting can be performed with custom criteria defined by the user
Unique barcode numbers are assigned to each tape
The barcode numbers allow tracking of tapes throughout the system
Incoming tapes report, outgoing tapes report, individual tape history tracking, tape movement, who has what tapes since when. Other custom reports can also be printed from this module
View logs of each compilation reel, master and sub-master reel from within the library
Tape shipment form with serialized numbers linked to the LIBRARY tracks shipping information and prints shipping receipts.
Automatic individual and multiple-element check-outs can be performed without the need for bar-coding.
Revised shipping receipts with option to integrate with electronic signature pads (Windows workstation only).